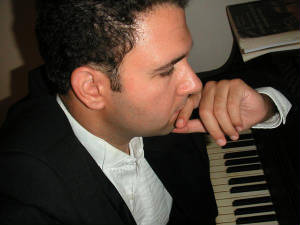 A native from the Boston area, Rick Scalise is a full time musician who has been performing in public since age 10. Rick is a graduate of Boston University where he received his Bachelor of Music in Piano Performance and Composition, as well as his Masters degree in Composition. He was selected as solo pianist for the Greater Boston Youth Symphony Orchestra and performed in Berlin, Austria, Prague, and Symphony Hall. His compositions include works for Piano, Voice, Cello, Violin, Chamber Ensemble, Chorus, String Orchestra, as well as Full Orchestra. In addition to these works, Rick has written a plethora of Pop, Experimental, and Rock music. His influences range from Rachmaninoff and John Williams to Pink Floyd and Ozzy Osbourne. Rick is currently penning a new Rock Musical Comedy.
While attending Boston University, he studied under renowned pianists Hung-Kuan Chen, Tian Ying, Maria Clodes, and Linda Jiorle-Nagy, conducting/orchestration under Theodore Antoniou, composition under Martin Amlin and Sam Headrick.

He has been an accompanist since age 11, and since then has been involved with many musical productions throughout the area. To date, Rick has been music director/vocal coach/conductor/accompanist for over 40 main-stage productions. He has worked for many Theatre Companies including Metrowest Family Theatre as well as The Reagle Players. Since 2005, Rick has worked with Donna McKechnie, Shirley Jones, Lee Meriwether, and Dane Cook's late mentor Frank Roberts. He has also performed onstage with Patti Page, The Mills Brothers, and Connie Francis.
Rick has been teaching piano for the last 15 years as well as guitar for the last 9 years privately and at the Lexington Music School, organist for St. Theresa's Church in Billerica, and performs weekly at Retirement Communities as a solo classical pianist averaging 200+ concerts a year. Since 2005 he has been Adjunct Faculty as accompanist at Emerson College. His first CD Virtuoso Piano Solos, features works by Chopin, Liszt, Rachmaninoff, Monti-Scalise, and others. Rick is planning to record a second CD featuring works by Beethoven and Liszt.
Rick has performed in Boston's Symohony Hall as accompanist, as soloist in Las Vegas at the Liberace Museum, as well as on several cruise ships through the Norwegian Cruise Line.
In the summer of 2007, he spent the Summer performing Piano on The Pride Of Hawaii, the largest U.S. cruise ship in the Norwegian Cruise Line.
Rick currently plays piano, clavinet, mellotron and Hammond organ in Live Bullet the ultimate Bob Seger tribute band. www.livebulletband.com
Additionally, Rick is an avid car enthusiast and collects muscle cars and Corvettes.